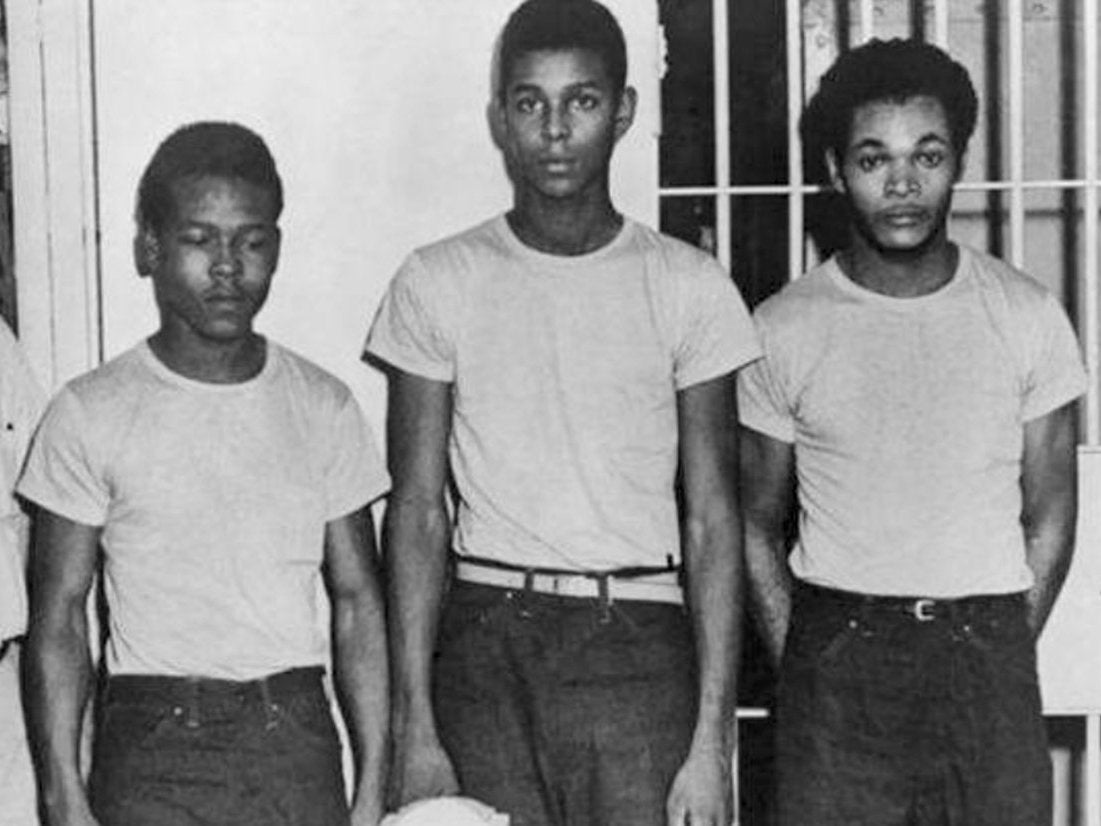 Four black men who were wrongly convicted of raping a white teenager almost 70 years ago have received posthumous pardons.
Florida's new governor and the state's cabinet voted unanimously to pardon the 'Groveland Four' following an hour-long meeting on Friday.
The last of the men died in 2012 but their relatives appealed their innocence on Friday, in a case now seen as historical racial injustice.
Join Independent Minds
For exclusive articles, events and an advertising-free read for just £5.99 €6.99 $9.99 a month
Get the best of The Independent
With an Independent Minds subscription for just £5.99 €6.99 $9.99 a month
The case of Charles Greenlee, Walter Irvin, Samuel Shepherd and Ernest Thomas was brought back into the public's eye following the publication of historian Gilbert King's Pulitzer prize-winning book Devil in the Grove in 2013.
The men's ordeal began in Lake County in 1949, when a 17-year-old girl claimed she had been raped.
Three of the men were arrested and severely beaten, while Ernest Thomas fled.
A gang of about 1,000 men hunted down Thomas and shot him 400 times after finding him sleeping under a tree.
Charles Greenlee, Walter Irvin and Samuel Shepherd were convicted by an all-white jury. 
Other evidence that could have exonerated them – such as a doctor's conclusion that the teen probably wasn't raped – was withheld at their trial.
Mr Greenlee was sentenced to life, and Mr Irvin and Mr Shepherd to death.
Thurgood Marshall, later the first African-American justice on the US Supreme Court, took up Mr Irvin's and Mr Shepherd's appeals, and in 1951 new trials were ordered.
But just before the trials began, Lake County Sheriff Willis McCall shot the pair, claiming the handcuffed men tried to escape as he transferred them from prison to a jail.
Mr Shepherd died, while Mr Irvin, who was shot in the neck, survived despite an ambulance refusing to take him to hospital because he was black.
Mr Irvin was again convicted, even though a former FBI agent testified that prosecutors manufactured evidence against him. 
Charges were never brought against any of the white law enforcement officers or prosecutors who handled the cases.
Mr Irvin was eventually paroled in 1968 and found dead in his car while returning to Lake County for a funeral a year later. 
Mr Greenlee was paroled in 1960 and died in 2012.
His daughter, Carol Greenlee, told Florida governor Ron DeSantis and the cabinet that there was overwhelming evidence showing her father was innocent.
"He was accused, put in jail and tortured for something he didn't do," she said.
The woman who said she was raped sat in a wheelchair at the meeting and insisted "I'm not no liar".
She claims she was dragged from a car, had a gun put to her head and was told not to scream or the men would "blow your brains out".
The pardons came almost two years after the state house and senate voted to formally apologise to relatives of the Groveland Four and to ask then-governor Rick Scott to pardon the men. 
Mr Scott, now a US senator, never took action. Mr DeSantis replaced him as governor on Tuesday and made the pardons a priority.
Additional reporting by Associated Press