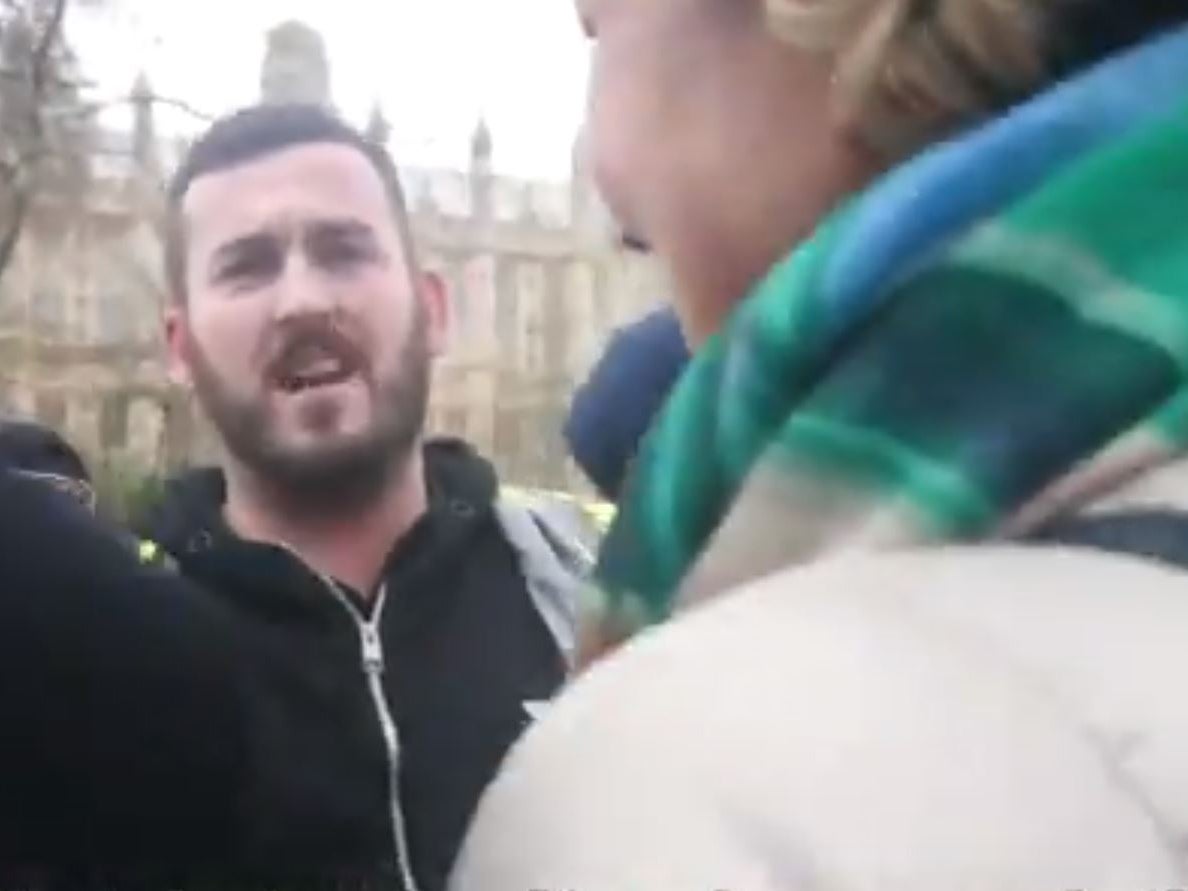 Prosecutors are assessing whether "yellow-vest" protesters that have been disrupting Westminster may have broken the law.
Dozens of MPs called for a crackdown on the far-right Brexiteers for "intimidating and harassing" politicians, journalists and pro-Remain protesters outside the Houses of Parliament.
Sir Stephen House, deputy commissioner of the Metropolitan Police, said authorities were probing whether protesters may have committed public order offences.
Join Independent Minds
For exclusive articles, events and an advertising-free read for just £5.99 €6.99 $9.99 a month
Get the best of The Independent
With an Independent Minds subscription for just £5.99 €6.99 $9.99 a month
"There are a number of cases that we have referred to the Crown Prosecution Service (CPS) in relation to what has been going on over the last few days and that is being considered," he added.
"The law of the land lays out a variety of different offences in public order."
Sir Stephen said he could not comment on the three cases under consideration, but Scotland Yard previously confirmed that an incident where pro-Remain MP Anna Soubry was followed and insulted was reported as a potential offence.
Speaking before the London assembly's police and crime committee, he said it was a "very delicate situation".
"There is a very fine judgement to be made in terms of allowing people to go about lawful expression of their views whilst not preventing other people going about their lawful business," Sir Stephen added. 
"Whether it's an MP going into parliament or anyone else doing their job, people have got an absolute right to go about their lawful daily lives without impediment.
"That's clearly a balance and outside parliament we're seeing it tested to the extreme limit."
The Public Order Act makes "threatening, abusive or insulting words or behaviour" illegal in some circumstances, as well as causing harassment, alarm or distress.
No one has yet been arrested over abuse outside parliament, although three "yellow-vest" supporters have been detained in other incidents.
At a protest in London on Saturday, three men were arrested on suspicion of public order offences and a 13-year-old girl was detained for allegedly assaulting a police officer.
On Monday afternoon, a man was arrested in Parliament Square for suspected assault.
Concern has been mounting over almost daily protests that started in December, seeing members target pro-EU protesters, politicians and journalists, as well as blocking roads and scuffling with police.
More than 60 MPs have written to police demanding action, but officers have no power to remove the group from outside the Houses of Parliament or any other public place unless they are committing a crime, or a specific court order is made.
Particular concern has been raised about the frequent use of the insults "traitor" and "treason", following the murder of MP Jo Cox by a pro-Brexit white supremacist in 2016.
Len Duvall, a Labour assembly member, asked the police for assurances that "yellow-vest" members were being monitored to prevent the incitement to violence.
Sir Stephen said comments and dialogue on social media was being monitored and "does form part of the investigations that we are carrying out", while increased numbers of officers are deployed to Westminster.
A small number of "yellow-vest" protesters returned on Wednesday, where they heckled journalists, and the group is planning a day of "national action" on Saturday.
Last weekend saw scuffles with police at a demonstration in London, as "yellow vests" protested in other British cities including Manchester, Newcastle and Newport.
Key organiser James Goddard, who used to live in Spain's Canary Islands, has had his Facebook and PayPal accounts deleted amid condemnation of the group's activities.
His profile on the social network Gab shows a history of racist and Islamophobic comments, including telling mixed-race women to "jog off back to the jungle" and "f*** off back to Bongo Land".
Mr Goddard, who has previously spoken at Tommy Robinson rallies, has called for a "mass repatriation program" for Muslims and labelled refugees "barbaric, third-world savages".
He now claims to be campaigning for a no-deal Brexit, but put "banning Islam from the west" above leaving the EU on an online wish list published a year ago.